DR. JENNIFER L. WALDEN FEMALE BOARD-CERTIFIED PLASTIC SURGEON
Dr. Jennifer Walden's Affiliations
Dr. Jennifer Walden went down in history being named as the first female president of The American Society for Aesthetic Plastic Surgery (otherwise known as The Aesthetic Society) in 2022. For more information, click on the press release here. Dr. Walden now serves as the organization's immediate past president.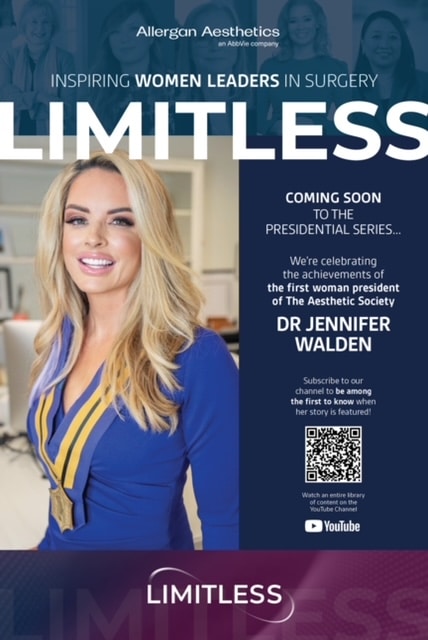 Board-Certified Female Plastic Surgeon
A Highly Recognized Surgeon
Since 2014, she has been recognized as one of Texas Super Doctors, as seen in Texas Monthly and since 2016 Dr. Walden has been one of Castle Connelly's Top Doctors.  In 2016, Dr. Walden was honored to be selected for membership into the American Association of Plastic Surgeons, an invitation-only, all-star academic society described as "the highest medium of recognition in the field of plastic surgery as evidenced by contribution of its individual members".
While in New York, Dr. Walden was an Attending Surgeon in Plastic Surgery at Manhattan Eye, Ear and Throat Hospital  (MEETH) and Lenox Hill Hospital as well as being the Aesthetic Surgery Program Director at MEETH. She also had the academic appointment of Clinical Instructor of Surgery (Plastic Surgery) at The Hansjörg Wyss Department of Plastic Surgery at New York University Langone Medical Center (NYU). She now holds an academic appointment with The University of Texas Southwestern (UTSW) as Clinical Assistant Professor in Plastic Surgery. The UT Southwestern Department of Plastic Surgery is a world leader in patient care, research, innovations, and plastic surgery education.
Walden Cosmetic Surgery & Laser Center
Dr. Walden owns her own business of Walden Cosmetic Surgery & Laser Center, and operates in her own fully accredited office operating suite at Westlake Medical Center, where she and her team are dedicated to maintaining the highest standards of patient safety. She also has privileges at the Hospital at Westlake Medical Center and Seton Hospital. As one of a very small number of board-certified female plastic surgeons in Texas formally fellowship-trained in cosmetic surgery, Dr. Walden is an advocate for women's health, empowerment, and autonomy throughout all aspects of life.  Her Westlake practice houses the The Vaginal Rejuvenation Center of Austin, PLLC which offers many of the noninvasive vaginal health devices on the market, and the doctor has also extended sexual health and wellness services to her male clientele with the assistance of her excellent nurse practitioner and innovative device technology combined with bioidentical hormone replacement therapy.  Dr. Walden was honored to recently have been selected by Harper's Bazaar magazine as one of the nation's 24 Best Beauty Surgeons in the United States, as featured in its April 2014 issue.
Dr. Jennifer Walden In The Media
A regular face in the media, Dr. Walden is a sought-after source regarding topics such as medical spa, technological advances in the aesthetic industry, soft tissue injectables, mommy makeovers, celebrity plastic surgery, teenage plastic surgery, breast implants, vaginal rejuvenation, non- and minimally invasive procedures and general medical correspondence. Dr. Walden has her own lifestyle segment "Looking Good and Living Well With Dr. Jennifer Walden" on KVUE-TV, Austin's local ABC affiliate. She is a regular guest on national news outlets such as Fox News Channel and has been featured on E! TV's Dr. 90210, 20 Best and Worst Celebrity Plastic Surgery Stories, VH1's Plastic Surgery Obsession, NBC's The Today Show, ABC's 20/20, as well as CBS' The Early Show regarding the FDA release of silicone breast implants for general use.
Her comments have appeared in print and internet media including The New York Times, Vogue, Teen Vogue, Allure, The Dallas Morning News, Harper's Bazaar, Refinery 29, Cosmopolitan, Glam.com, Self, Shape, Absolute Magazine, Bridal Guide, Health, Dallas/Fort Worth's Indulge, New York Magazine, and The New York Sun. Dr. Walden has personally been featured in numerous local media outlets including Austin Woman, The Austin American-Statesman, MD Monthly Magazine, VIVE Magazine- Austin/ San Antonio, Community Impact-Westlake, TexasMD Magazine and Austin MD Magazine, and her image has appeared on the cover of Italian Vogue, Metropolitan Magazine, Vivez, NSIDE Business Magazine, MD Monthly, TexasMD, Austin MD, VIVE, and Plastic Surgery Practice Magazines. Dr. Walden was honored to be featured in Texas Monthly's The Working Life column in June 2012 as told by acclaimed screenwriter and journalist, Skip Hollandsworth; as well she enjoys contributing health and beauty news on Austin's local television new shows.
In addition to her skills in plastic surgery, Dr. Walden is also an established author, having published numerous articles and presented multiple award-winning research papers at national meetings. Dr. Walden has presented at national conferences teaching other plastic surgeons on laser techniques with facelifting, HALO Hybrid Laser, breast implant and fat grafting surgery, SmartGraft hair restoration, ThermiVa and DiVa noninvasive vaginal rejuvenation, and social media in the beauty industry to name a few topics.
She enjoys teaching and has been selected as an American Society for Aesthetic Plastic Surgery Traveling Professor on numerous occasions
Dr. Walden has also co-authored an award-winning textbook entitled Aesthetic Plastic Surgery (click here to see on Amazon.com) which was released in 2010 by Elsevier. She serves as a consultant to the nation's leading aesthetic companies including InMode, Lumenis, Viveve, Thermi, SmartGraft, Venus Concept, Cyanosure, Ideal Implant, and Sciton, Inc. She has also been a direct-to-consumer national spokesperson for the Natrelle Pre-Consultation Kit, a DIY breast implant sizing kit that is available online to prospective patients with an educational DVD. Dr. Walden enjoys the technique and artistry of aesthetic surgery, and has developed her own instruments for breast surgery available to surgeons internationally through the instrument company Accurate Scientific and Surgical Instruments (ASSI).
Texas Board-Certified Plastic Surgeon
A native Texan, Dr. Walden was born and raised in Austin and grew up in Northwest Hills. She graduated from Anderson High School where she was an all-state soccer player and then received her undergraduate education at the University of Texas at Austin, graduating with Honors with a Bachelor of Arts in Biology. She then went on to receive her Medical Doctorate with Highest Honors and graduating as the Salutatorian at the University of Texas Medical Branch as well as being elected president of the Texas Alpha Chapter of Alpha Omega Alpha Honor Medical Society. During this time she did an externship at the prestigious Plastic Surgery Associates in Miami with renowned pioneers and teachers of facelift surgery and anatomy, Drs. Tom Baker and James Stuzin. Several of her past awards include the American Society for Aesthetic Plastic Surgery Award for the Best Scientific Exhibit by a Candidate (Vancouver, BC, 2004), The Janet M. Glasgow Memorial Award and Achievement Citation given by the American Medical Women's Association (1998), and The Mavis P. Kelsey Excellence in Medicine Award and Scholarship given by the Kelsey-Seybold Foundation of Houston (1998).
After completing her residency training, she moved from Texas to New York to pursue her special interest in aesthetic surgery after being selected for the highly competitive world-renowned fellowship at Manhattan Eye, Ear and Throat Hospital (MEETH). During her fellowship, she benefited from the knowledge and expertise of many internationally known leaders in the field of aesthetic plastic surgery, and acquired cutting edge techniques for cosmetic surgery of the face, nose, breast, and body. Dr. Walden integrated this innovative technology and clinical knowledge into her successful practice of plastic surgery in Manhattan. Dr. Walden served as the Program Director of the Manhattan Eye, Ear and Throat Hospital Aesthetic Surgery Fellowship until her relocation back to Austin. The Manhattan Eye, Ear and Throat Hospital Aesthetic Surgery Fellowship was the first organized cosmetic surgery training program in the United States, and remains one of the foremost, highly regarded "hands-on" clinical training programs of tomorrow's cosmetic plastic surgeons.
After her fellowship, Dr. Walden became the associate of world-famous aesthetic plastic surgeon, Dr. Sherrell J. Aston, and remained so during the entirety of the time she resided and practiced in New York for the past eight years. Dr. Aston is considered internationally to be one of the most authoritative voices in aesthetic surgery education as well as a very technically talented "cosmetic surgeon to the stars." It was during this time that Dr. Walden honed her skills and learned new techniques, as well as how to run a first class cosmetic surgery practice with professionalism and discretion. In 2007 Aston and his team, including Dr. Walden, were photographed by world-renowned photographer Mark Seliger for the April 2007 cover feature of L'Uomo Vogue (Italian Vogue) entitled Dr. Aston: Aesthetic Magician of the Stars. At Manhattan Eye, Ear and Throat Hospital, Dr. Walden also trained and worked with other internationally-renowned figures in aesthetic plastic surgery including Dr. Daniel Baker, Dr. Gerald Pitman, Dr. Nicholas Tabbal, and Dr. Alan Matarasso.
Dr. Walden Gives Back to the Community
Dr. Walden believes in giving back to the community and to those who need help. Like many philanthropists in the medical field, Dr. Walden makes time to volunteer for the underserved and less fortunate and finds this to be one of the most rewarding experiences in her life. In June 2016, Dr. Jennifer Walden was named runner-up for Austin's Woman of the Year by the Austin Leukemia and Lymphoma Society. This campaign raised funds for research in blood cancers and Dr. Walden raised the most behind Amanda Bush, who fought in honor of Barbara Bush and raised a record breaking amount on a national level. For the amount she raised, Dr. Walden was bestowed the honor of a research grant by the Leukemia and Lymphoma Society in her name for advanced research in pediatric blood cancers.
Dr. Walden is also a member of the Guardian Angel Society, a philanthropic group of individuals that provides support to abused children served by Austin's Center for Child Protection. She has participated as a volunteer surgeon in medical mission trips, including Austin Smiles, providing cleft lip and palate surgery to infants born with congenital differences. Dr. Walden also proudly supports the Junior League of Austin's Food in Tummies (FIT) program, a unique program designed to provide weekend nourishment to elementary school children who qualify for free or reduced meals. As a principal sponsor and donor, Dr. Walden has visited Austin-area schools where she had the privilege of taking part in the program first-hand. She was also honored to be invited to serve on the Executive Leadership Team of the Go Red for Women campaign in Austin to help bring awareness to heart disease among women through the local efforts of the American Heart Association. While in New York, Dr. Walden served on the board of directors of Weston United Community Renewal, a Harlem based non-profit that helps to house the homeless and mentally ill of NYC and get them back on their feet. She understands the importance of community being born and raised in Austin, and currently is a sponsor for Westlake Hills' Forest Trail Elementary School, the Eanes Educational Foundation to help fund teachers. Dr. Walden also serves as a sponsor for Hyde Park High School, Doss Elementary School, Murchison Middle School, Trojan Pop Warner, NW Austin Kickball League, NW Austin Pony/ Colt Baseball League, as well as Del Valle Cheer group.
"Give, and it will be given to you: good measure, pressed down, shaken together, and running over… For with the same measure that you use, it will be measured back to you." Luke 6:38