diVa™ is a quick, comfortable, no downtime solution to a woman's most intimate challenges*
diVa™, the latest innovation developed by Sciton, expands the broad range of JOULE™ platform capabilities to address a woman's most intimate challenges. This new modality utilizes the revolutionary Hybrid Laser Technology developed for Halo™, the world's first and only Hybrid Fractional Laser, to treat the vaginal tissue so that women can feel more like their younger, vital selves.
Two major events in a woman's life can lead to decline in vaginal health that DiVa can help with:
Childbirth stretches the vaginal canal and surrounding tissue. The vagina can mostly be repaired by the body's own healing response. With many women, however, the tissue may not return to the same state as before childbirth. This stretching damages the vaginal walls, perineum, and surrounding tissues, which often leads to diminished vaginal health and function.
Menopause and other events such as a hysterectomy, chemotherapy, or the process of breast-feeding, may lead to reduced estrogen production by the ovaries and may often lead to thinning, drying and inflammation of the vaginal walls. For many women this may decrease healthy vaginal function.
Check Out Our Quick Facts on the Diva
The innovative diVa device combines two FDA-cleared Sciton laser wavelengths approved for ablative and non-ablative tissue treatment.
laser vaginal tightening AustinDiVa is the world's first hybrid fractional laser that combines two different wavelengths for the treatment of vaginal tissue.
Recent ongoing studies have demonstrated that diVa is safe and effective for women of all ages – premenopausal and postmenopausal.
The diVa treatment takes 3 to 5 minutes to perform.
DiVa is a versatile treatment that can be customized – allowing ablation and coagulation at the same time or tunable to deliver either ablation only or coagulation only depending on the conditions being treated.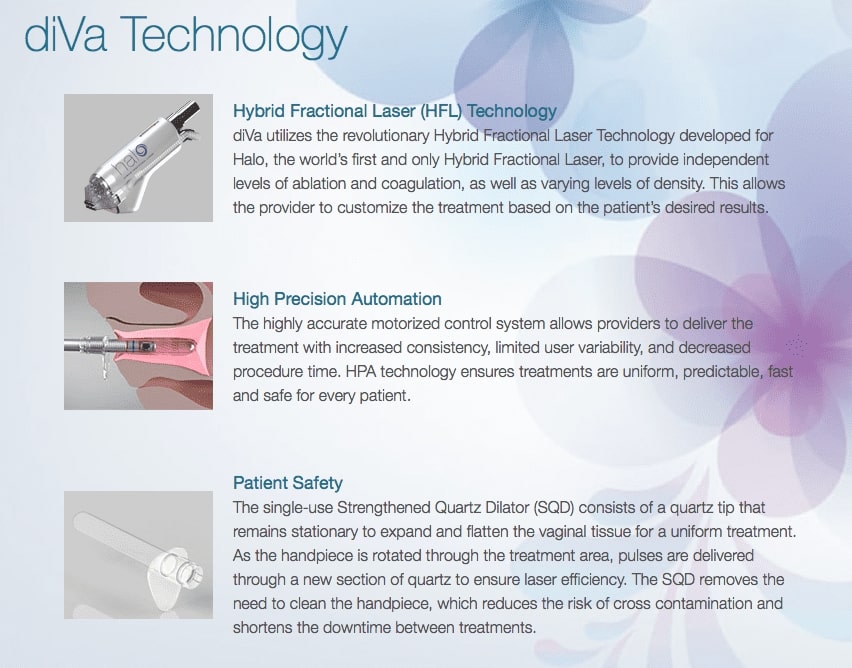 Watch Dr. Walden Discuss Diva Vaginal Laser
Dr. Walden was featured on a syndicated television segment nationwide on many networks talking about diVa vaginal laser. Here is the segment from Atlanta's NBC affiliate.
* A message from the manufacturer of the diVa device (Sciton, Inc):
Sciton is committed to its customers, patient safety, and to contributing to the advancement of women's health through good science and new technology. The diVa device has been on the market for more than two years and celebrated a milestone earlier this year with over 10,000 procedures safely and effectively completed. Sciton is working with the FDA to provide irrefutable scientific data supporting the positive benefits of laser vaginal treatments. From the beginning, the innovative diVa design has delivered precise, effective, and safe treatments and Sciton intends to continue to develop and support this medical arena.